Oregon City Garbage is 2016 Business of the year!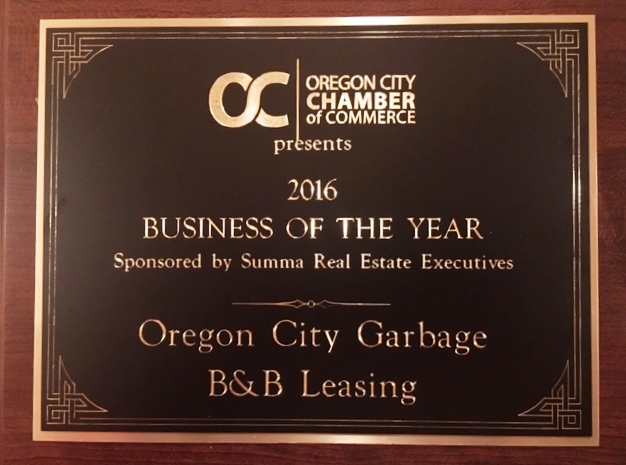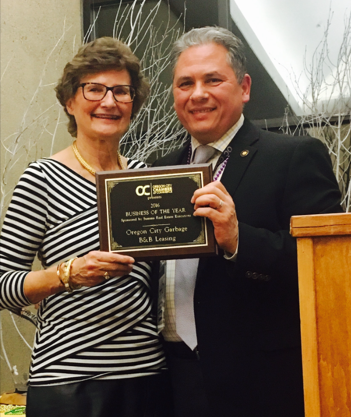 Pamela Bloom & Mark Meek
Dear Pam and Oregon City Garbage,
Congratulations on your chamber award as Business of the year. This award is a testament to the amazing work your entire organization and staff contribute to our communities. Great work!

Mark Meek
State Representative
District 40

Commemorative Coin
---
2009's Businessperson of the year winner has an outstanding track record of management as well as tremendous contributions to our community. The employees of this long established business are tremendously enthusiastic about the support and leadership of this businessperson. The quality service rendered by this business is clearly a reflection of this person's support of staff and leading by example.
Though there have been many contributions to the community, one of the most recent was through the Rotary Club of Oregon City. This individual led a major effort of cleaning and painting an Oregon City elementary school that was in great need of care. Just one of many employee comments include: "an excellent business sense combined with a good heart and sensitivity toward others in the community, as well as her employees, make this company the success it is…"
Pamela Bloom is Businessperson of the year!
2008 Business of the year!

B&B Leasing was selected this year for being the kind of business that doesn't seek fanfare or praise for its years of generosity. They provide a critical service to all homes and businesses in Oregon City and beyond. It has been family owned and operated since 1935, and has grown from a single truck to a fleet 40 specialized collection trucks. Pamela Bloom continues the family legacy of treating employees as if they were family. There are so many ways that B&B Leasing gives back to our community they are too numerous to share.

By Amber Holveck
ChamberWire Volume 9 Issue 2 Feb 2009
---
In memory of Mark Salvetti
Mark Salvetti was a great person as well as a wonderful employee of B&B Leasing Co. He was killed in a car accident on December 21st, 2007. He was 26 years old. He is survived by his wife, Janell, his daughter, Kennedy, age 4 and his son, Hunter, age 1.

B&B Leasing Co. has set up a savings account at Washington Mutual's Molalla Branch for the Salvetti Family.
Checks should be made out to: "In Memory of Mark Salvetti"