Oregon City Garbage is 2016 Business of the year!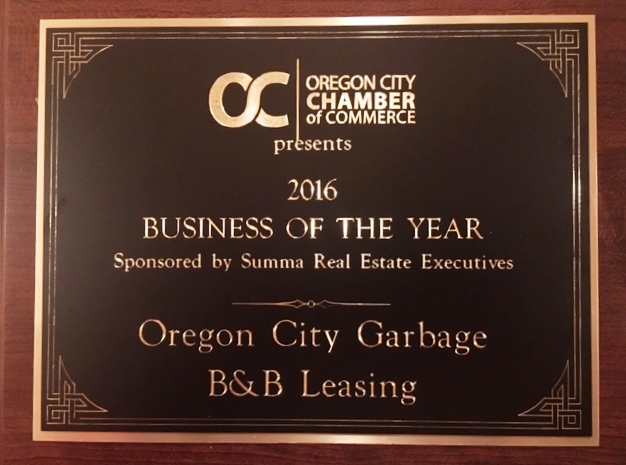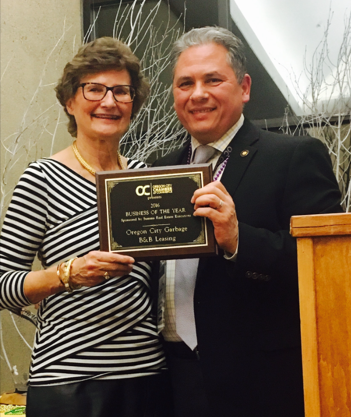 Pamela Bloom & Mark Meek

Dear Pam and Oregon City Garbage,
Congratulations on your chamber award as Business of the year. This award is a testament to the amazing work your entire organization and staff contribute to our communities. Great work!

Mark Meek
State Representative
District 40

---
2008 Business of the year!

B&B Leasing was selected this year for being the kind of business that doesn't seek fanfare or praise for its years of generosity. They provide a critical service to all homes and businesses in Oregon City and beyond. It has been family owned and operated since 1935, and has grown from a single truck to a fleet 40 specialized collection trucks. Pamela Bloom continues the family legacy of treating employees as if they were family. There are so many ways that B&B Leasing gives back to our community they are too numerous to share.

By Amber Holveck
ChamberWire Volume 9 Issue 2 Feb 2009
---
In memory of Mark Salvetti
Mark Salvetti was a great person as well as a wonderful employee of B&B Leasing Co. He was killed in a car accident on December 21st, 2007. He was 26 years old. He is survived by his wife, Janell, his daughter, Kennedy, age 4 and his son, Hunter, age 1.

B&B Leasing Co. has set up a savings account at Washington Mutual's Molalla Branch for the Salvetti Family.
Checks should be made out to: "In Memory of Mark Salvetti"